Many would agree fish tanks possess special magic if they are decorated in the right way and contain exciting species.
There are different types of fish tanks. Some are small others are of medium size, while the rest can be massive aquariums. You can find a large number of cool fish species you can hold in an aquarium. However, some are suitable for smaller tanks, while others can grow a lot, so they require an appropriate living space.
A 90-gallon saltwater fish tank, for example, is one of the medium size aquariums that you can keep in your living room. It is not too small, but it is not very big either. So it does not take up too much space and is an ideal solution for many homes. Your room can look significantly better with one of these, and that's a good reason for many to buy it.
When you choose this size, it is also important to know what kinds of fish species fit the best in that aquarium. Fortunately, many medium and smaller species adapt perfectly well to the tanks of that size, and you can find out more about them in the text below.
7 Best Saltwater Fish for 90-Gallon tank
1. Designer Clownfish
2. Lineatus Fairy Wrasse
3. Flame Angelfish
4. Marine Betta
5. Royal Gramma Basslet
6. Lyretail Blue Gudgeon Dartfish
7. Yellow Tangs
1. Designer Clownfish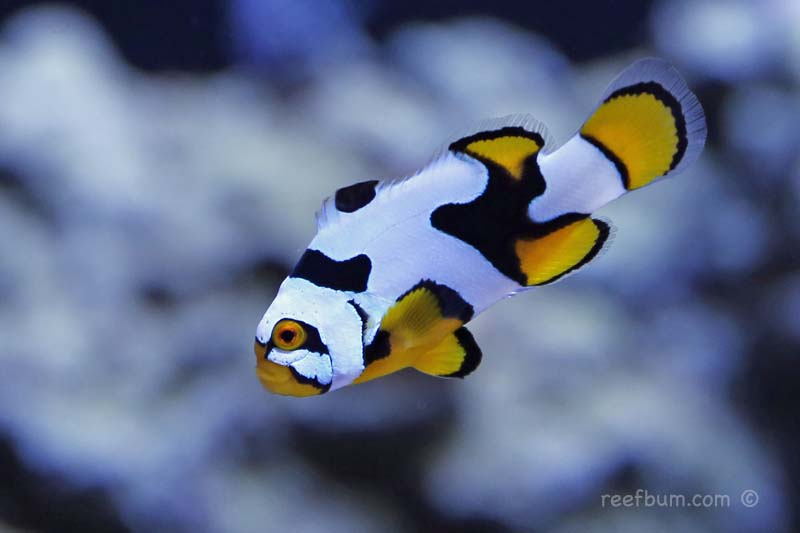 Description
Designer Clownfish, for example, is a lovely solution for all types of aquariums including those of 90 gallons.
Size
They are relatively small by size and can grow from 3 to 6 inches maximum. Designer Clownfish has a very unique and interesting look with compelling colours, so they will make your tank look more appealing.
That's why it holds first place on this list as the best fish for aquariums of that size. You can have many of these into a 90-gallon saltwater tank, and they do not require some special care. So you can be quite sure about them.
Price
The price, however, might be quite high thanks to these characteristics, but they are definitely worth every cent. There are different varieties of Designer Clownfish. Some are more and others less aggressive. Maroon varieties, for instance, are known for their harsh temperament, so you should count on that too.
2. Lineatus Fairy Wrasse
Description
Lineatus Fairy Wrasse is another sort that fits into 90-gallon saltwater tanks. They are known as peaceful species that shows no signs of aggression.
It also has a very nice look, and many consider it the most beautiful aquarium fish among all wrasses you can find on the market for tanks of that type. However, this fish is far more demanding, so you will have more work and will have to pay more attention if you decide to buy it.
Size
Lineatus Fairy Wrasse does not grow too much, so it is quite small by size with a maximal length of 5 inches.
Price
This is also one of the most expensive sorts of fish with a price that goes over $200. So if you plan to buy it, you should prepare enough money for the purpose.
3. Marine Betta
Description
Marine Betta is also a good fish for the holders of 90 gallons of aquariums because it also does not require too much space. It has a unique and interesting look, but it is definitely not the prettiest fish around there.
The unique thing about this fish is that it looks different than common aquarium fishes, so it is a pleasant experience to have it in your tank.
Behaviour
Marine Betta is a peaceful fish, and it does not make any problems related to aggression. So it will fit well with other fishes of the same temper.
Marine Betta is a quite shy fish, and it is not very active, so you will not look at it while moving around all the time.
Size
Marine Betta, however, can grow bigger than other sorts from this list, but it does not require too much scape due to the low activity. That's why it is a perfect fit even for saltwater aquariums smaller than those of 90 gallons.
Price
The price of approximately $80 is a modest amount suitable for buyers with a medium budget.
4. Royal Gramma Basslet
Description
Royal Gramma Basslet is also a fantastic-looking fish ideal for smaller and medium-sized aquariums. The fish has an excellent combination of colours with pink and yellow as the most predominant ones.
This fish does not require any special care, and that's why it is ideal for beginners who do not have a lot of experience with the hobby.
Size
This is a small fish that grows up to 3 inches maximally.
Behaviour
Royal Gramma Basslet can only be aggressive with fishes of the same species while it does not attack other species.
Price
The price of this fish is quite affordable considering other species on the list. You can purchase it for approximately $30, and that's why it might be an excellent solution for customers with low budgets.
Sometimes, the price can be even lower, so you will have no high spending if you decide to buy this fish. Royal Gramma Basslet requires a complete coral system because it likes to hide, and it needs some suitable places to do so.
5. Lyretail Blue Gudgeon Dartfish
Description
Lyretail Blue Gudgeon Dartfish is a fish of an attractive shape with a monochrome colour combination. There are only small differences when it comes to different shades, but it is correct to say this fish is coloured with a light blue over the entire body.
It is also suitable for beginners because it does not require any special care, so you will have no problem keeping it in good condition with minimal effort. You do not need any special knowledge too.
There are just some basic instructions you have to follow during feeding, maintaining the proper temperature, and cleaning the water.
This is not the prettiest species out there, but it can look very nice while in combination with other fish.
Behaviour
This is not an aggressive fish. It can live in peace with other fishes of the same temper. It is excellent for 90 gallons tanks, but it can fit well even into smaller aquariums because it does not require too much space.
Size
It grows up to 6 inches maximum, and that's the main reason why you can keep it in small tanks.
Price
The price of this fish is also an affordable one, and it is around $30. So the potential customers should not worry too much about their budgets when it comes to buying this fish because they will spend low amounts of money.
6. Yellow Tangs
Description
Yellow Tangs are also an exciting and nice-looking fish species ideal for 90-gallon saltwater aquariums. Being one of the most popular saltwater aquarium fish, it has a very cool shape, and that's the reason why Yellow Tangs look unique in comparison with some other fish.
As the name suggests, they are colored in a golden yellow over the entire body with big black and yellow eyes. Yellow Tangs are, however, suitable for beginners because they are quite easy to maintain, and you should not expect any serious problems if you follow some basic rules.
Size
Their maximum size is 8 inches, and they cannot grow more than that.
Behaviour
Despite the beautiful look, these fishes are not peaceful at all. They can be pretty aggressive and are considered by specialists as such. Thanks to the extraordinary look, they can truly enhance a fish tank, and that's why many decide to buy them despite their aggressiveness.
Price
Yellow Tangs have a medium price. They are not the most expensive fish sort on the market, but they are either not the cheapest species out there.
The price typically ranges between $100 and $120 depending on the store and location. So a potential buyer is free to search for the most affordable option.
7. Flame Angelfish
Description
Flame Angelfish is also an excellent fish for the saltwater aquariums of 90 gallons. It looks very nice, but it is not as beautiful as the two aquarium fish above.
That's mostly because Flame Angelfish has a simpler colour combination with red colour as a predominant one. This fish is very aggressive, and you have to keep that in your mind.
It might not be suitable for some other fish species because they can attack and even injure them. That's the reason why you should add it last if you make some combination of that type.
Size
This fish does not grow too much, however. So 90-gallon tanks provide more than enough space for their proper development, and it might also fit nicely into some smaller types of aquariums.
Price
This fish is relatively cheaper than the two above with a price of approximately $50. So if you want to protect your home budget, this might be a perfect solution for your fish tank.
Conclusion
There are many beautiful aquarium fish you can put in your 90-gallon saltwater tank. Still, it's important you know their compatibility towards one another and most importantly, their maintenance routine ranging from their water requirement and feeding.
Recommended Reading: Discover How Much It Cost to Maintain A Saltwater Aquarium